weekend ini. saya ada banyak benda yang nak buat dan perlu dibuat.
-.-
antaranya ialah. DIY Project 1 saya. iaitu Buku tetamu ~ buku untuk kamu kamu semua yang akan datang di majlis walimah ku pada 11.12.2010 ini, buku ni adalah untuk kamu kamu semua drop wishes and doa for us. :)
dan alhamdulillah. 1st cut dah siap. maybe nak kena touch up siket2 lagi. biar nampak lagi cantik. dan of course. tahan lasak. kang orang rebut nak sign-sign, koyak plak. huhu naya. owh bajet ramai je orang nak tulis sampai nak kena rebut-rebut kan? :P
mula-mula memang plan nak tempah je dari kedai. tapi memikirkan ongkos dan masa yang kureng ada untuk saya yang bekerja di Kerteh ini.. jadi saya telah mengambil keputusan untuk buat sendiri buku tetamu ini.. do it yourself je lah`~
shopping-shopping di Popular Book Store, Mesra Mall, pilih itu pilih ini. bayang ini bayang itu. dan inilah hasilnya~
my wedding's "Buku Tetamu"
what do u think? cantik tak? cantik tak? for me, dah cantik dah ni. haha [masuk bakul angkat sendiri tak sah] apa apa pun, saya sangat berpuas hati. biarpun tak siap lagi sepenuhnya, saya tetap suka. dan yes, ada benda lagi nak kena buat ni, dah kata 1st cut kan. actually wording tu takde lg. ni edit2 guna Picnik.com je. hehe
the overall cost spent? not more than RM30 tau. [clap clap]
now i just have to find ways to make the cover to be more tougher. sebab saya hanya guna crepe paper which is so lembik yang amat. maybe will need to paste it on a hard cover paper at the back. hm. tengok la macam mana.
ok. can stop for a while for my 1st DIY project. jom proceed to other task; wedding guest list.
to those out there who still didn't have the opportunity to message me your address. please do so k. :) sms pun boleh, drop message di facebook saya pun ok. insyaAllah kad kahwin saya akan siap end of next week. macam mana lah rupanya kan? I don't know a thing since I give it all to my future family in law to settle it. InsyaAllah O.K nye kan? :) -positif-
and owh yes. i am currently doing "blog window shopping" on my hantaran cake. ada a few design of fondant cakes yang menarik hati dan sedang di consider untuk diletakkan atas dulang hantaranku. antaranya adalah..
suka sangat dgn design cake ni. simple but yet so elegant. owh how can a cake be so beautiful? nguu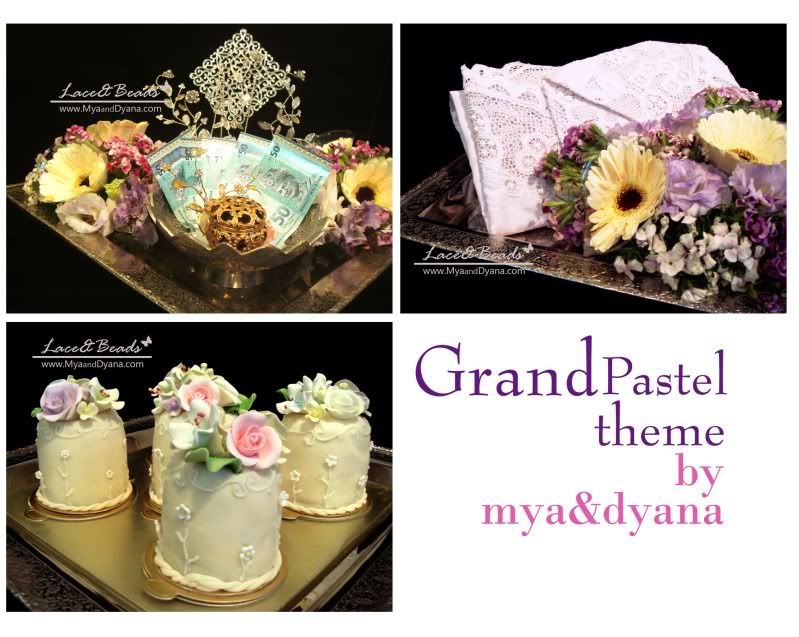 suka gak dengan mini cakes ni. owh comel nya. and very the different one kan?
dua kek di atas ni adalah dari
http://sugarandpaste.blogspot.com/
. and i already emailed them to place my order, tapi malangnya. they are all fully booked already. huhu. sedih2. tapi takpe, don't worry. ada lagi yang cantik`~ seperti di bawah ni
owh comel kan? ini dari
http://dill-cakes.blogspot.com/
, dapat yang 1st tier of this cake pun dah ok. simple tapi comel sangat. owh owh. suka nya. but still no response from them.
-.-
harap-harap tak penuh lagi la schedule diorang.
ni plak dari
http://ilovecupcake.blogspot.com.
simple but yet so nice kan? boleh bayang kalau letak rose kat atas tu. nguu
kak ateen ni dah response. so far harga boleh tahan. affordable lah. pending kejap sebab saya kena ukur saiz dulang hantaran daku dulu. sebab nak tahu berapa biji mini cakes or cake tu boleh muat. mini cakes ni dalam 3". hm. if leh muat 7 macam kat dalam picture ni cantik nya. tp my dulang is petak. how ek? hm. itu nanti fikir. :D
and last bakery yang i email for quotation is Comelicious, cute & yummy cake + cupcakes, kak Suzana:
http://comelicious-cupcake.blogspot.com/
bows cake nama dia. comel kan? can imagine dah if dalam pink + purple + white color. sure cantik.
n
i Ya Allah. comel nye. especially tier atas sekali tu. saya dah tanya kak suzana, whether boleh buat yang satu tu je, and she said yes. owh suka suka. the best part is. sume cake di atas is within my budget. owh lagi suka suka. n yes, my beloved tunang pun suka dengan kek ni, siap bagi cadangan lagi, suh buat patung perempuan tu lentok di bahu patung lelaki. aww. sweet nye cadangan kan? hehe. rasa-rasanya boleh ke ek? hm. will ask her later.
so, kena tunggu satu lg response lah.. then i will decide which cake i want to take. :) rasa macam nak amek dua jenis cake plak. satu dulang untuk cake satu lagi untuk mini cakes. what do u think? macam okay je kan? sebab if satu dulang untuk sirih junjung ni di ganti dengan cake macam lagi ok. at least my beloved tunang can give their families to eat. sirih mana leh makan. haha bazir je. hm. will consider this too. :)
thank you to those who helped me by recommending the best cake website available at my facebook. semuanya sangat membantu. jasamu di kenang. :) dan sangat kagum dengan hasil seni mereka ni. macam susah nak percaya, kek boleh jadi cantik macam tu. tiba tiba macam rasa nak belajar buat plak. hehe
owh. best nya keje kawen ni. dan lagi best kalau DUIT dan MASA dan LOKASI bukan menjadi isu.hehe [u wish my dear u wish :P]
till then, bubbye~